Dr

Joshua Andrews

Lecturer in Eastern Religions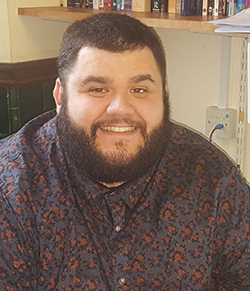 Contact info
Name: Joshua Andrews
Position: Lecturer
Email: j.andrews@bangor.ac.uk
Phone: 01248 382103
Location: T22
Contact Info
Name: Joshua Andrews
Position: Lecturer
Email: j.andrews@bangor.ac.uk
Phone: 01248 382103
Location: T22
Overview
Dr. Joshua Andrews is a lecturer in Asian Religions at Bangor University, where he also serves as the Director of Student Engagement in the School of History, Law, and Social Sciences. His area of expertise lies in Asian Religions, with a particular focus on Hinduism and Buddhism. In addition to his academic pursuits, Dr. Andrews has developed a genuine interest in Existentialism, which led him to complete his PhD, exploring the relationship between the existential thinking of Soren Kierkegaard and Buddhist philosophy.
Joshua's current research endeavors revolve around the intersection of religion, gender, and sexuality. His research strives to shed light on the diverse perspectives encompassed within these intricate areas, fostering a deeper understanding of the complexities involved.
Joshua's research interests have influenced his teaching, leading him to develop a range of modules that examine Asian religions and their responses to issues such as sex, gender, the environmental crisis, and human rights issues. Alongside Asian religions, Joshua also teaches existentialism, ethics, and political philosophy.
Beyond his roles within the university, Joshua humbly serves as the co-chair of the National Centre for Religious Education in Wales, collaborating with esteemed colleagues to advance religious education throughout the country. Additionally, he has the privilege of sharing his knowledge and pedagogical expertise by teaching on the PGCE Secondary program at Bangor University, contributing to the development of future educators.
Throughout his career, Joshua has dedicated himself to designing a range of assessments that promote critical thinking, effective communication, and creative problem-solving. These assessments, such as think tank assignments, panel discussions, curated music playlists with commentaries, and engaging podcasts, aim to cultivate invaluable skills in students, preparing them for the challenges of the modern world.
Postgraduate Project Opportunities
Postgraduate Project Opportunities
I am interested in supervising doctoral students working in any of the following areas:
Hinduism
Buddhism (especially the Theravada traditions)
Comparative Philosophy (particularly in the fields of Asian Philosophy, existentialism and ethics)
Gender and Asian Religions
The intersection between religion and sexuality 
Teaching and Supervision
Modules taught
Living the Good Life: Introduction to Ethics
Existentialism 
Political Philosophy 
Applied Ethics
Hinduism in the Modern World
Buddhism in the Modern World
Sex and Society
Tales of Might and Morality
Religious Education
Independent Study
Dissertation
Other
Administrative Roles
Admissions Tutor (Philosophy, Ethics and Religion)
School Liaisons Officer
Director of Student Engagement 
Recognition/Awards
2017: 'Postgraduate Teacher of the Year', Bangor University Student-Led Teaching Award.
2019: 'Student Engagement Award', Bangor University Student-Led Teaching Award
2022: 'Student Voice Award', Bangor University Student-Led Teaching Award
Research areas and keywords
Keywords
BL Religion

BQ Buddhism

BJ Ethics